8: Adult CVS and confusion with Cannabinoid Hyperemesis Syndrome
Adult CVS and confusion with Cannabinoid Hyperemesis Syndrome
Adult CVS and confusion with Cannabinoid Hyperemesis Syndrome Coinciding with the increasing rates of cannabis abuse has been the recognition of a new clinical condition known as Cannabinoid Hyperemesis Syndrome. Cannabinoid Hyperemesis Syndrome is characterized by chronic cannabis use, cyclic episodes of nausea and vomiting, and frequent hot bathing.
Cannabinoid Hyperemesis Syndrome occurs by an unknown mechanism. Despite the well- established anti-emetic properties of marijuana, there is increasing evidence of its paradoxical effects on the gastrointestinal tract and CNS. Tetrahydrocannabinol, cannabidiol, and cannabigerol are three cannabinoids found in the cannabis plant with opposing effects on the emesis response. The clinical course of Cannabinoid Hyperemesis Syndrome may be divided into three phases: prodromal, hyperemetic, and recovery phase. The hyperemetic phase usually ceases within 48 hours, and treatment involves supportive therapy with fluid resuscitation and anti-emetic medications. Patients often demonstrate the learned behavior of frequent hot bathing, which produces temporary cessation of nausea, vomiting, and abdominal pain.
Since cyclic vomiting syndrome shares several similarities with CHS, the two conditions are often confused, especially since cannabis (marijuana) use is frequently seen in adults with CVS. For example, in two published series of adult patients with CVS, approximately one third of patients reported daily marijuana use. Patients with CHS are often mislabeled as having CVS and vice versa. These patients often report that they take cannabis to relieve symptoms of nausea and vomiting. Based on the categorization of functional disorders developed by Rome IV, chronic marijuana use (CHS) is recognized as a mechanism for nausea and vomiting distinct from CVS.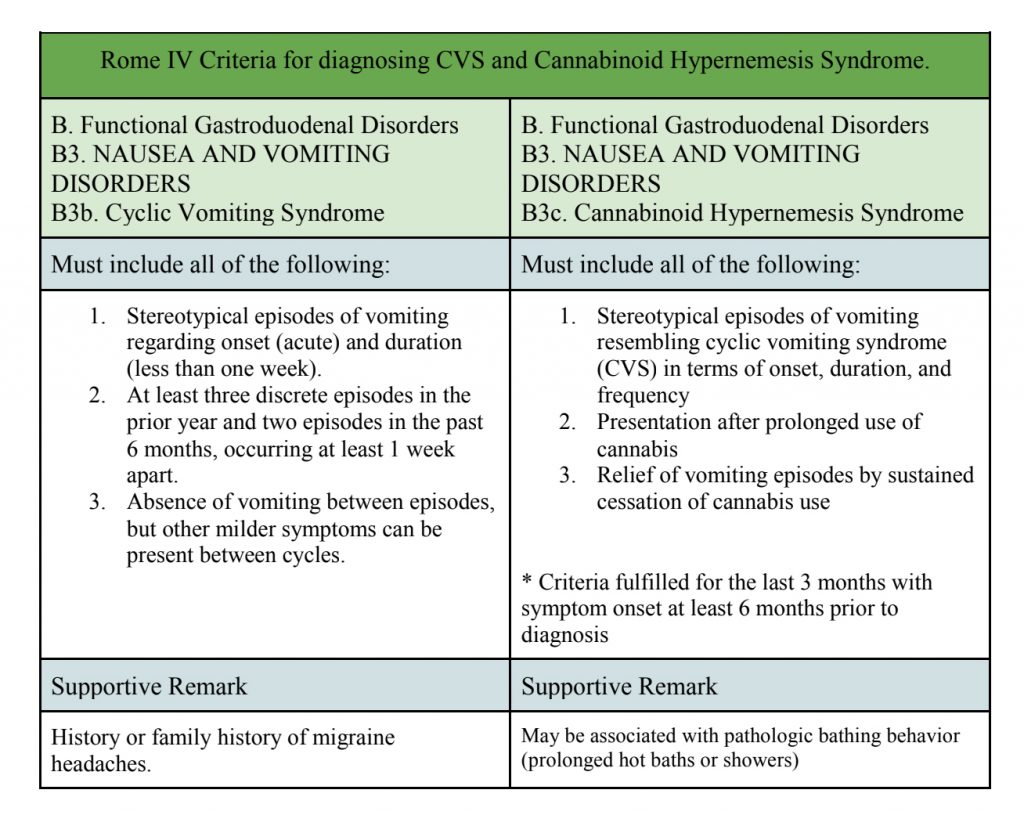 Although both conditions share an astonishing similarity, there are several significant differences. For example, CVS patients usually have important psychological comorbidities including depression and anxiety. In addition, CVS patients have a high prevalence of migraine headaches or a family history of migraines. Furthermore, gastric emptying rates in patients with CVS are often accelerated rather than delayed. Several case reports implicate marijuana as a cause of intractable vomiting with prolonged hot baths or showers considered pathognomonic of "cannabinoid hyperemesis." Venkatesan and colleagues of the Medical College of Wisconsin conducted an internet survey among 514 CVS patients from members of the Cyclic Vomiting Syndrome Association USA in 2014, and sought to examine the relationship between marijuana use and CVS.
The study showed that marijuana use is associated with hot showers, but even though the frequency of prolonged hot baths or showers is higher among patients using marijuana, this phenomenon of this behaviour was also seen in CVS patients who denied any use of it, and this kind of bathing should not be interpreted as being pathognomonic of marijuana use.